Chris Dahlberg and Denise Collins
came to Daintree from Port Douglas at the end of the disastrous Pilot's dispute in November 1989.
Chris started at the Daintree River Cruise Centre as a boat driver/guide and saw his first crocodile several weeks later. It was a hard apprenticeship entertaining boat loads of tourists in the hottest part of the day in the hottest part of the year and not long after the truly repressive heat came the rains. It cooled things down but it seemed as if the rain would never stop and it went on until April.
Denise started as the receptionist at the Daintree River Cruise Centre meeting hundreds of tourists a day and many shared their thoughts with her. Some were disappointed with not seeing the promised wildlife, particularly crocodiles.
They decided to do something about it.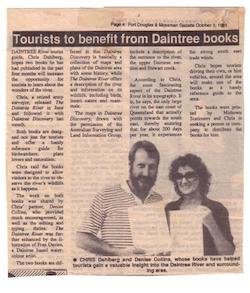 "It was during 1990 that the first information book went to press. The road to Daintree was only one lane with a one lane bridge and the road to the ferry was mud or dust depending on the season.
Hire car companies rewarded spies if they reported cars going over the Daintree River onto the gravel roads. The small ferry only ran 12 hours a day."
Tourists were confused by the term "Daintree".